Interlocking Patios & Walkways Installation: Completing the Image of a Dream House
Interlocking patios and walkways installed by our award-winning team of professionals meet highest industry standards. Oaks Home Services is able to design and build custom interlocking patio or walkway using the latest technologies, best equipment, and years of experience in hardscape construction.
Feel free to contact us to get professional advice and an estimate from one of our specialists in Toronto, Vaughan, Richmond Hill and other GTA cities. You'll be happy you did because:
✔ Top quality stone products
✔ Experienced and professional interlocking experts
✔ Our work will increases the value of homes
✔ We help you choose the best materials and design
✔ Affordable rates on installation
✔ 5-year limited labour warranty
✔ Other interlocking services for patios, walkways and more
Our Latest Interlocking Patio And Walkways Projects
We have completed so many interlocking patio and interlocking walkway projects in Toronto and the GTA. We invite you to browse the image gallery below to see the great work that we have done. If you like something that you see, we invite you to call us at (647) 619-4977 to talk about your interlocking needs.
Patios & Walkways Interlock Design in Toronto, Vaughan, King City and Caledon
We have strong relationships with local manufacturers of natural stone and pavers. You'll get the high-quality materials for the best possible price. There is a wide range of materials which vary by size, shape, colour, and texture. The interlock stone designers from Oaks Home Services will help you to choose the option which best suits your outdoor living space.
What's So Good about Interlocking Patios?
Having an outdoor space for gatherings with your loved ones is a dream-come-true for Toronto area homeowners. Imagine sitting around the table, talking and laughing without distractions – only you, your family, and fresh air. Fulfill this image with a beautiful patio; Oaks Home Services is here to help you!
Our company provides interlocking services in Toronto and the GTA. We specialize in designing patios and walkways, making your ideas a reality. We install interlocking patio stones, as well as interlocking driveways and driveway extensions.
Our professional team from Oaks Home Services will make your outdoor living space more inviting with beautiful pavers surrounding your house.
Not only do interlocking patios add elegance to a property but they also help repurpose your outdoor space into functional living space. Our aim is to help you choose the right patio interlocking designs to transform your backyard into a veritable wonderland the whole family can enjoy.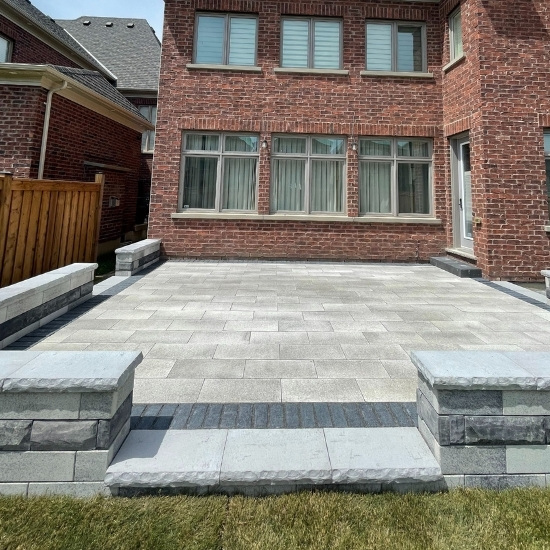 "Tim and Yuri have provided excellent craftsmanship and high quality service. Their team recently completed my two driveways with interlocking stone. This is our second time using their company and we would highly recommend them to anyone interested in similar projects. Thanks for a job well done!"
Derrick M.
"Tim and his team were extremely polite, professional and trustworthy. They worked long days to get the job done and consulted with me on my preferences all throughout the process. We are very happy with the quality of their work and they left the worksite clean. I would definitely hire Oaks again and will recommend them to friends and neighbours."
Ken B.
"Tim, Uri and their team were exceptional guys to work with. They were hired to replace curbs, front entry ways stairs and pathway to the backyard. They were punctual and the most hardworking people I have come across .I would not hesitate to hire them again. If you hire these guys you will not be sorry ."
Anne-Marie A.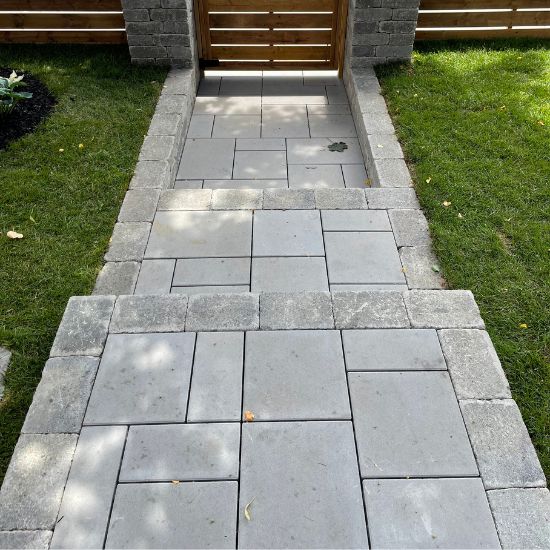 What We Can Do for You
Since the goal of backyard living space is to make your home exterior both beautiful and functional, there is no room for error. Our team is ready to design an interlock patio suiting your tastes and needs perfectly. We will help you make your home look even more beautiful by adding eye-catching landscape elements made with flagstone and pavers.
If you're sick and tired of seeing a dull backyard, it's time to add some character to your home! Interlocking patios and walkways are exactly what you need to turn your whole house into a modern masterpiece and your garden into the best place to relax and have fun in.
Oaks Home Services will be glad to answer your questions, create your back and front yard patio design, and also install interlocking pavers providing a warranty on all types of work!
We are a team of enthusiastic and devoted landscapers providing the highest level of craftsmanship in every detail, whether it's creating a design or installing interlocking patio pavers. Having an interlock patio provides so many benefits, from increasing the value of the house to extending your living area.
The Oaks Home Services crew is ready to create a backyard patio design to perfectly suit your needs!