Driveway Interlocking Services Keswick
At Oak's, we understand that not every driveway is the same, which is why we provide custom designs tailored to fit each individual project. Our experienced staff will work with you to create a unique design that enhances your home's curb appeal and blends seamlessly with surrounding landscaping.
Our interlocking experts strive to exceed customer expectations with each job we do, and we take great pride in our work. If you're looking for an experienced company that can handle all aspects of your driveway interlocking in Keswick, look no further than Oaks!
Here's why Keswick's homeowners choose Oaks:
✔ Top quality stone products
✔ Experienced and professional interlocking experts
✔ Our work increases the value of homes
✔ We help you choose the best materials and design
✔ Affordable rates on installation
✔ 5-year limited labour warranty
✔ Other interlocking services for patios, walkways and more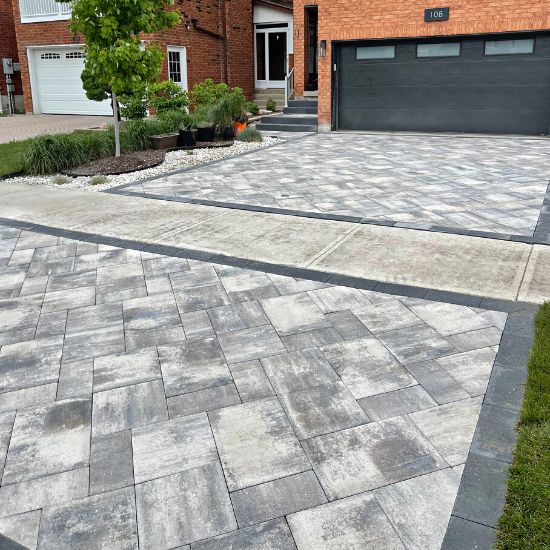 Patio, Walkway, Porch and Backyard Interlocking Services in Keswick
Our team of highly trained interlocking experts will work with you to design and install a beautiful addition to your home, making it the envy of your neighbours. We offer a range of options for walkways, porches, patios and backyards, allowing for more flexibility and customization in both design and colour.
Let us help transform your outdoor space into something special! Contact us today to learn more about our patio, walkway, porch and backyard interlocking services in Keswick.
"Tim and Yuri have provided excellent craftsmanship and high quality service. Their team recently completed my two driveways with interlocking stone. This is our second time using their company and we would highly recommend them to anyone interested in similar projects. Thanks for a job well done!"
Derrick M.
"Tim and his team were extremely polite, professional and trustworthy. They worked long days to get the job done and consulted with me on my preferences all throughout the process. We are very happy with the quality of their work and they left the worksite clean. I would definitely hire Oaks again and will recommend them to friends and neighbours."
Ken B.
"Tim, Uri and their team were exceptional guys to work with. They were hired to replace curbs, front entry ways stairs and pathway to the backyard. They were punctual and the most hardworking people I have come across .I would not hesitate to hire them again. If you hire these guys you will not be sorry ."
Anne-Marie A.
Keswick's Interlocking and Landscape Contractors you can Trust!
At Oak's Home Services, we have many years of experience, allowing us to provide top-notch workmanship. We use only the highest quality materials and offer a variety of services including interlocking walkways, patios, driveways, retaining walls and much more in Keswick. Our team is dedicated to providing professional customer service, and we believe in creating beautiful outdoor spaces that will last for years to come.
You can count on us to deliver the results you need at an affordable price. Contact us today to learn how our experienced contractors can transform your outdoor space into something extraordinary!