Power Washing & Sealing of Any Surface Quickly and Safe by Oaks Home Services
If you have spills on your driveway or patio or you just want to refresh the look of your old deck, Oaks Home Services offer you high quality power washing and sealing services in Toronto, Vaughan, Richmond Hill and other GTA areas.
Using only best equipment in pair with years of experience result in an outstanding performance which most of the time leave our clients speechless. Please contact one of our specialists for pressure washing and sealing pricing.
Here's why homeowners choose us for power washing and sealing:
✔ Experienced and professional washing and sealing experts
✔ Our work will increases the value of homes
✔ Affordable rates
✔ 5-year limited labour warranty
Powers Washing And Sealing Projects
We have helped many homeowners across Toronto and the GTA revitalize their wood decks and stone elements with our power washing and sealing service. If you have been looking for a power wash service, call our team at (619) 619-4977.
Power Washing & Sealing Services in Toronto and the GTA
It is vital to keep the front of a home, garden and backyard fine, fresh, and free of stains, if you want to have sustainable landscape. Oaks Home Services is going to make space surrounding your house carefully cleaned. When it comes to power washing and sealing in Toronto and other cities of Ontario, we offer superior quality cleaning results. By hiring us, you will extend lifetime of the deck, concrete and interlocking surfaces.
Advantages of Power Washing
Power washing is an efficient way to make concrete driveways and pavers look new again and refine hard-to-reach places. Our professionals clean up decks, concrete and interlocking surfaces with weeds growing between sections. We apply latest technologies and have one of the best power washer fleets – a heavy-duty workhorses with high-performance engines, which is able to face up to great challenge. After undesired dirt and grass complete removal, the joints are filled in with polymeric sand in order to prevent from further growth.
To finish up we can apply deck, concrete or interlock sealing. This coating keeps the surface attractive and durable for longer, protects from dirt, UV lights, and oil spills. Generally, driveway sealing cost depends on the scope of work.  In order to get an accurate estimate and to place an order for power washing in Toronto, Vaughan, Richmond Hill, Markham, and other cities of Ontario, contact us during our work hours.
We invite you to contact us today if you are in the market for a professional power washing and sealing service. You can get in touch with us by calling our team at (647) 619-4977 or by sending us a message through our contact page.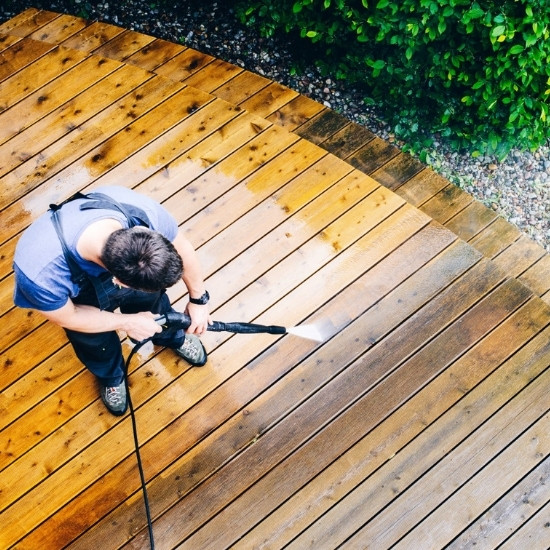 "Tim and Yuri have provided excellent craftsmanship and high quality service. Their team recently completed my two driveways with interlocking stone. This is our second time using their company and we would highly recommend them to anyone interested in similar projects. Thanks for a job well done!"
Derrick M.
"Tim and his team were extremely polite, professional and trustworthy. They worked long days to get the job done and consulted with me on my preferences all throughout the process. We are very happy with the quality of their work and they left the worksite clean. I would definitely hire Oaks again and will recommend them to friends and neighbours."
Ken B.
"Tim, Uri and their team were exceptional guys to work with. They were hired to replace curbs, front entry ways stairs and pathway to the backyard. They were punctual and the most hardworking people I have come across. I would not hesitate to hire them again. If you hire these guys you will not be sorry."
Anne-Marie A.