Demolition Services in Toronto: Complete Safety Control at All Levels
Oaks Home Services specialize in demolition services in Toronto and surrounding areas. We believe that an artful budget demolition implies maximum preservation of the functional elements. We try to save as much as it's possible before we proceed with the reconstruction works.
Our specialists know where the pre-cuts should be made and where to pull to produce minimum waste and to release preliminary specified areas that can be used in the subsequent renovation. Our machines will dig anything and our workers will dispose all waste and dirt after the demolition process. Please contact us to get more information.
Here's why people go with us for demolition services:
✔ Experienced and professional demolition experts
✔ Our work will increases the value of homes
✔ Affordable rates
✔ 5-year limited labour warranty
Our Latest Demolition Projects
We have helped many homeowners across Toronto and the GTA with their demolition needs. If you are in need of demolition services, you can call our experts today at (647) 619-4977.
Controlled Structural Demolition of Houses and Landscape Structures Carried Out by the Professional Team of Oaks Home Services
There are cases when you have to restore your hoose and the surrounding structures from impressive damages. It happens when superficial repairs make no sense and you have to be quick. Accomplishing a goal like this is incredibly hard without experience. Oaks Home Service professionals are ready to face any type of residential demolition starting from partial replacement of the fences, decks, and swimming pools, finishing with a full excavation process.
Utmost Safety
We know how to arrange a controlled demolition and we have the appropriate equipment. Keep in mind that we're fully insured team of enterprising builders, designers, and architects ready to deal with excavation, post hole digging, and pool demolition. Properly performed demolition implies the preservation of the basic functional structures: plumbing, electrical outlets, and ventilation. The first thing we do is studying of your existing landscape plan to preserve the utility systems.
Expert Guidance
Take your time and search for feedback about the work we've performed in your area and find out that we've never experienced accidents thanks to our high standards. We know how to leave definite areas of the construction unaffected. Are you still searching for a fully insured demolition company? Oaks Home Services is one of the most experienced demolition contractors in your area.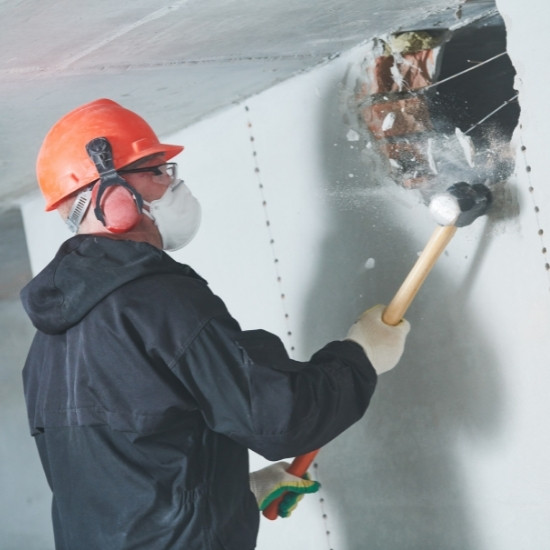 "Tim, Uri and their team were exceptional guys to work with. They were hired to replace curbs, front entry ways stairs and pathway to the backyard. They were punctual and the most hardworking people I have come across. I would not hesitate to hire them again. If you hire these guys you will not be sorry."
Anne-Marie A.
"Tim and Yuri have provided excellent craftsmanship and high quality service. Their team recently completed my two driveways with interlocking stone. This is our second time using their company and we would highly recommend them to anyone interested in similar projects. Thanks for a job well done!"
Derrick M.
"Tim and his team were extremely polite, professional and trustworthy. They worked long days to get the job done and consulted with me on my preferences all throughout the process. We are very happy with the quality of their work and they left the worksite clean. I would definitely hire Oaks again and will recommend them to friends and neighbours."
Ken B.