Sod & Landscape Plant Installation in Toronto, Ontario – High Quality Service Guarantee
Oaks Home Services specialize in sodding in Toronto, Richmond Hill, Vaughan, Markham and surrounding areas. If you're looking for a landscaping company that will offer you affordable pricing and professional lawn installation, you've come to the right place.
We also offer artificial turf at incredible prices, thanks to our close relationships with the best local farms and manufacturers, where we receive our supplies directly. That's also a reason why we can guarantee the high quality of every herb and flower we plant in Toronto. Call us for a free estimate and professional advice.
✔ Experienced and professional plant and sodding experts
✔ Our work will increases the value of homes
✔ We help you choose the best materials and design
✔ Affordable rates on installation
✔ 5-year limited labour warranty
✔ More landscaping services for deck, patios, pools, and more
Sodding And Plant Installation Projects
We have helped homeowners across Toronto and the GTA improve the curb appeal of their home and enhance their backyards with our sodding and plant installation service. If you are looking to improve your home, call us at (647) 619-4977.
Toronto & GTA Sod Installation – Oaks Home Services
At Oaks Home Services, we provide complete design, lawn repair, and maintenance services for all type of plants on your property, sod, and plant installation. We offer unique landscaping ideas and strategies for creating a beautiful backyard, where you can relax and have fun in. Choose from artificial lawn, durable playground grass, and sod. If you're dreaming of a blooming garden and green lawn, we've got you (and your backyard) covered!
Main benefits of having healthy green lawn:
grass and plants clean the air by trapping CO2, so that you can step outside, take a deep breath, and enjoy life;
turf and sod help control soil erosion and keep it in place;
there are no holes and divots after pouring rain when your yard is fully covered with level and thick lawn;
sod and turf trap pollutants by filtering rainwater.
There are so many reasons to order sodding in Toronto, especially for families with kids. Whatever the reason, our team is always here to help you turn your backyard into an oasis of greenery in the midst of the city. We offer affordable and high-quality sodding services as well as trees and garden planting in Toronto, Etobicoke, Vaughan, Richmond Hill, King City, Caledon. Tell us your thoughts and we will turn your ideas into a practical landscape design.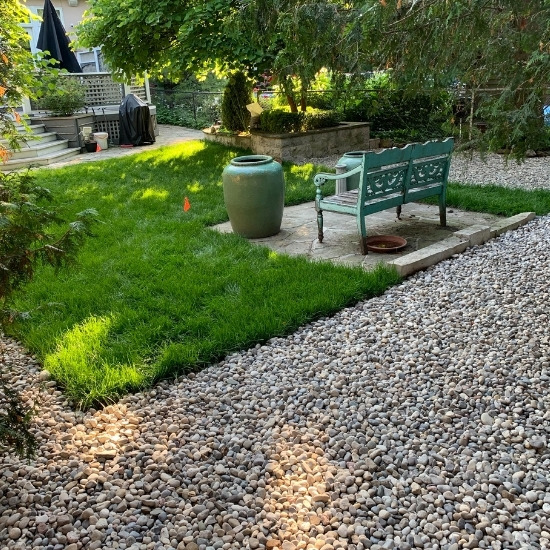 "Tim and Yuri have provided excellent craftsmanship and high quality service. Their team recently completed my two driveways with interlocking stone. This is our second time using their company and we would highly recommend them to anyone interested in similar projects. Thanks for a job well done!"
Derrick M.
"Tim and his team were extremely polite, professional and trustworthy. They worked long days to get the job done and consulted with me on my preferences all throughout the process. We are very happy with the quality of their work and they left the worksite clean. I would definitely hire Oaks again and will recommend them to friends and neighbours."
Ken B.
"Tim, Uri and their team were exceptional guys to work with. They were hired to replace curbs, front entry ways stairs and pathway to the backyard. They were punctual and the most hardworking people I have come across. I would not hesitate to hire them again. If you hire these guys you will not be sorry."
Anne-Marie A.