Your Full Service Landscaping Company in Toronto & GTA
Top-Rated Landscaping Company in Toronto & GTA
As a top-rated full-service landscaping company, Oaks Home Services sets the highest standards in the industry and provides top-notch construction assistance in Toronto and surrounding GTA regions. Our clients benefit from our commitment to excellence and attention to even the smallest details. We promise you to deliver the best possible craftsmanship and guarantee an outstanding quality of our work.
Oaks Home Services is a Toronto landscaping company with the best value of proficiency for your money. Skilled in every area of exterior works, we offer our extensive expertise as one of the top rated and award-winning landscape company with years of experience and customer satisfaction. We work with precision, skillfulness and ingenuity in every area of our expertise that you will find listed below. Choosing us to install an interlocking driveway, build a retaining wall or simply fix an old fence in your backyard you engage the assistance of the best landscape contractors Toronto has to offer.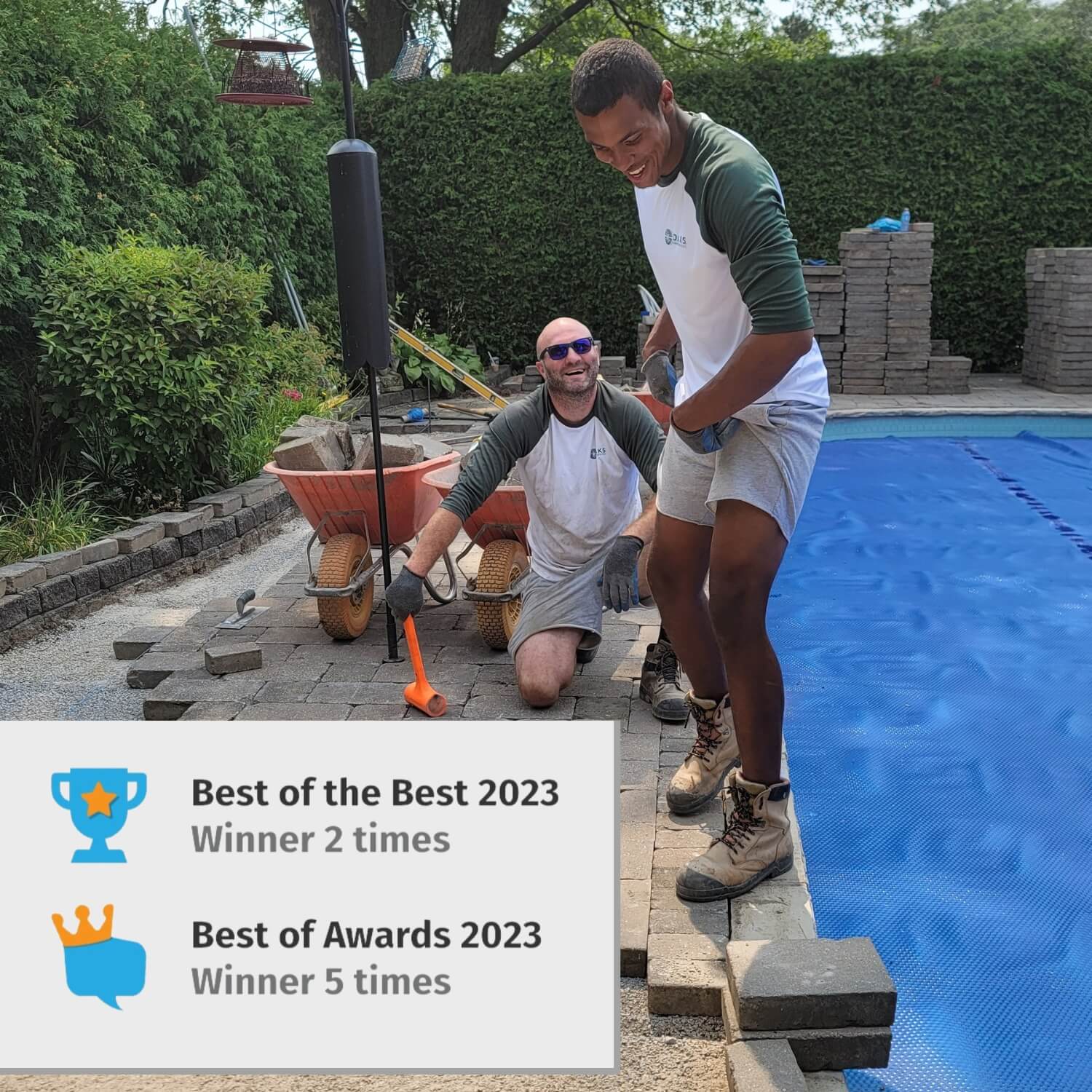 Oaks Home Services is a Toronto landscaping company with a name established on years of experience and customer satisfaction. The key ingredient of our success is the trust in our proficiency shared by our customers across the entire province.
The winning features that bring us out among the competition in Toronto landscaping services are:

✔ Monolith quality of our finished projects
✔ High aesthetic value and exquisite style we render to your home exterior
✔ Most modern landscaping Toronto top design mavens work on
✔ Time-efficient, all-inclusive, A to Z turn-key approach to every assignment
✔ A wide range of services delivered by skilled professionals
✔ Years of guarantee to fall back on
✔ Honest and flexible pricing policy
Job isn't even complete but I feel confident writing this review. Tim, Yuri, and team are absolute professionals and dedicated to their service. I can't speak enough to the positive experience I've had with all the members and through all the various stages of this engagement. I can't see a future where I don't call them back for any additional landscape work I might need. Thanks guys! -Gavin
marcel jean-gilles jr.
2022-10-14
Absolutely Amazing!! From Quote to completion Oaks came in and we're professional, organized, knowledgeable and most importantly paid attention to every detail! We were having issues with water pooling close to our house and were also looking for a surface to install a hot tub. The team at Oaks came in and installed a stunning interlocking patio with all the right pitch to handle the drainage and a level portion to seat the hot tub and all this without even being able to notice the change in grade. They finished on time and on budget! We wouldn't hesitate to recommend Oaks for your next project!!
Penny Klarreich
2022-10-08
Oaks provided excellent customer service from start to finish. Yuri and his team lifted and re-laid our interlocking pavers. Their work surpassed our expectations. They were on time, courteous, professional, meticulous in their work, very helpful and extremely organized. The job was absolutely perfect.
Владислав Богословов
2022-09-26
Very good company. Do it qualitatively. Listen to all submissions. I was satisfied with the work.
Great experience working with the Oaks Home Services team. Job was completed quickly and professionally. Amazing communication throughout the project!
Great work!, our backyard looks great
I contracted Oaks Home Services to replace an old 20ft retaining wall and fence that collapsed into my neighbor's yard. Tim and his team did an amazing job not only putting in exquisite new stone walls and a wooden fence, they also left both properties in much better shape then they found them! Tim and Yurii's recommendations resulted in a landscape that is both aesthetically pleasing and functionally sound. I am so impressed with the hard work, professionalism, attention to detail, craftsmanship of the workers and the high quality of materials used. I would highly recommend Tim and the Oaks Home Services team and would certainly use them for future work.
Fantastic company to work with. Great quality of work. We did a large project, had a few minor issues, and they went above and beyond to address everything. What really stands out are their crews. I've never worked with such professional, clean and courteous landscape professionals. They are a really great team. Very impressed and will use them again.
Tim and his team at Oaks Home Services helped us with our driveway extension project. We were amazed at how professional the whole team was. We paid exactly what we agreed on and the project was finished on time as promised. We were super pleased with the quality of their work. They even provided us with a time lapse video of the whole process afterwards. I would recommend their services to anyone who is interested in getting this sort of work done on their home!
Amaizing interlock job, We are extremely happy with their work. The best team we've work with, the level of perfectionism 👌🏼 Blew our mind! We will definitely recomend their interlock work to our people and for our next house we will call them back, No doubt. Thank you guys
"Oaks Home Services are outstanding! I was very impressed with Tim's professional approach to his work. Very reliable, hard working, honest and has a huge attention to detail. His associate Yuri was also terrific. All and all I would both hire his company again along with providing referrals."
Peter, Toronto
Landscape Construction Services in Toronto & GTA
The bottom line is, when you need to find a driveway interlock cost that makes you heave a sigh of relief, we are at your services. Whenever you need your front or backyard touched up, fixed and resurfaced, we will quote the best price and offer a guarantee of durability to back up our work. Dreaming of natural stone patio with a pool but doubting you can afford it? We will work out a perfectly balanced solution before the next poolside party season kicks in!
Let us make your home a better, fresher, safer place where you and your family will find comfort and peace for years of untroubled living. Every project takes minimal time to finish thanks to well coordinated work between the planning and constructing departments. We tidy up after the project is finished, so you do not have to deal with the debris left after construction works. Oaks Home Services establishes professional relationships with the customers that are built on trust; once your trusted landscaping contractor, we will always be one call away for eventual maintenance and new assignments – at a return customer price.
Greater Toronto Areas We Serve

Satisfied
Customers
Landscapes
designed
Driveways
installed

trees
planted