Driveway Interlocking Services Burlington
Driveway Interlocking Services Burlington
At Oaks Home Services, we pride ourselves on being the largest provider of driveway interlocking services in Burlington. We have been in business for years and have built a reputation for quality and customer service.
Our team of certified technicians is skilled in all aspects of driveway interlocking, from installation to repairs. So if you're looking for a stunning new addition to your home, look no further than our team. We'll work tirelessly to create a driveway that you'll be able to enjoy for years to come.
Here's why Burlington's homeowners choose Oaks:
✔ Top quality stone products
✔ Experienced and professional interlocking experts
✔ Our work increases the value of homes
✔ We help you choose the best materials and design
✔ Affordable rates on installation
✔ 5-year limited labour warranty
✔ Other interlocking services for patios, walkways and more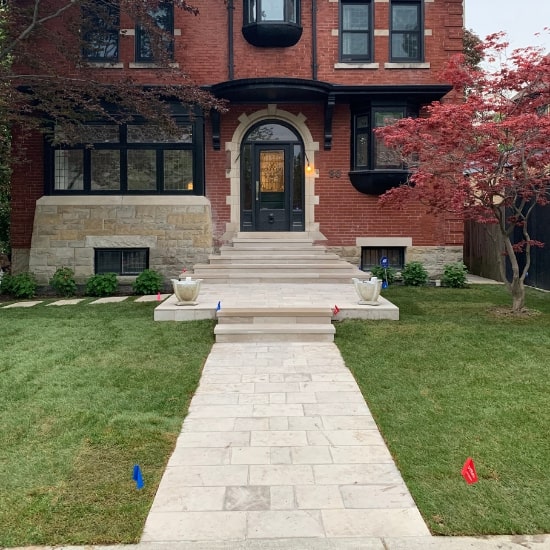 Patio, Walkway, Porch and Backyard Interlocking Services in Burlington
Oaks is the premier provider of high-quality patio, walkway, porch, and backyard interlocking solutions in Burlington. We use high-quality materials and workmanship to create durable, long-lasting results that will enhance the look of your home and add value to your property. Our team of experts will work closely with you to design a solution that meets your specific needs and budget. Whether you are looking for a simple patio to enjoy the outdoors or a complete backyard makeover, we have the experience and expertise to get the job done right. 
"Tim and Yuri have provided excellent craftsmanship and high quality service. Their team recently completed my two driveways with interlocking stone. This is our second time using their company and we would highly recommend them to anyone interested in similar projects. Thanks for a job well done!"
Derrick M.
"Tim and his team were extremely polite, professional and trustworthy. They worked long days to get the job done and consulted with me on my preferences all throughout the process. We are very happy with the quality of their work and they left the worksite clean. I would definitely hire Oaks again and will recommend them to friends and neighbours."
Ken B.
"Tim, Uri and their team were exceptional guys to work with. They were hired to replace curbs, front entry ways stairs and pathway to the backyard. They were punctual and the most hardworking people I have come across .I would not hesitate to hire them again. If you hire these guys you will not be sorry ."
Anne-Marie A.
Burlington's Interlocking and Landscape Contractors you can Trust!
At Oaks Home Services, we are dedicated to providing the highest quality craftsmanship and service to our clients. Our team of highly skilled professionals has years of experience constructing interlocking patios, driveways, and walkways, as well as designing and installing beautiful landscaping features. 
Whether you need a new patio for entertaining or a decorative staircase leading to your garden oasis, we have the expertise and dedication you can trust. So if you're looking for an interlocking contractor in Burlington that will get the job done right the first time, look no further than Oaks! We guarantee 100% satisfaction with every project we undertake.