Retaining Walls Installation in Toronto: Turning Your Design Ideas into Reality
Generally, retaining walls are freestanding structures, which help to hold and resist the lateral pressure of soil and different kinds of aggregates. If there is a drastic change in levels, probably you will need a retaining wall to separate your living space with a boundary and protect it from landslides or rockslides.
Contact Oaks Home Services, your local top rated landscape contractor, who will help you to design and build solid retaining wall.
✔ Top quality products
✔ Experienced and professional stone experts
✔ Our work will increases the value of homes
✔ We help you choose the best materials and design
✔ Affordable rates on installation
✔ 5-year limited labour warranty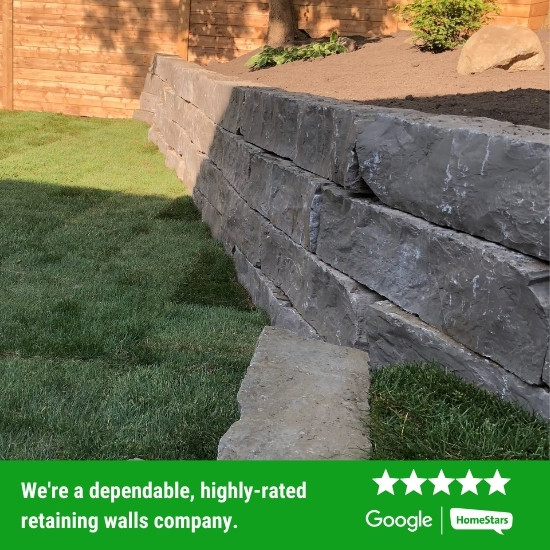 Our Recent Retaining Walls Projects
The team at Oaks Home Services has completed a number of retaining walls projects for homeowners across Toronto and the GTA. We invite you to see images from those projects below. When you see something you like, you can call us at (647) 619-4977 to discuss ho we can help you with your retaining wall needs.
Trusted Pros For Your Retaining Wall Needs
There are several types of material that can be used in retaining wall construction. The most common are: timber wood, concrete blocks, and armour stones. This kind of work must be performed under professional supervision in compliance with Ontario regulation acts and building codes, as with any type of structural engineering. We are the team you'll want to call when you want to install these types of stone walls around your property.
Solid and Beautiful Stone Retaining Wall: Creative Design with Professional Team
Retaining walls fulfill different aesthetic purposes in landscape design. They also prevent erosion, hold back earth, and stabilize slope yards. For some outdoor spaces, it's one of the most important landscape elements. Our professional team will design and build a stone retaining wall, which will add beauty and functionality to your garden.
Retaining walls also help create decorative flower beds, separate functional zones, and add uniquely designed terraces in your backyard.
We specialize in turning dream designs into reality. We build sturdy and beautiful retaining walls that always meet our clients' needs, including:
functional support to keep aggregates in place;
simplicity of solving age-old problems – in some cases there is no need for natural landscape element removal if we can construct a separating wall;
increased home value due to a dramatic improvement in the look of property.
The most common materials we use to build strong and durable landscape constructions are concrete blocks, armour stone, concrete mixtures, and timber wood.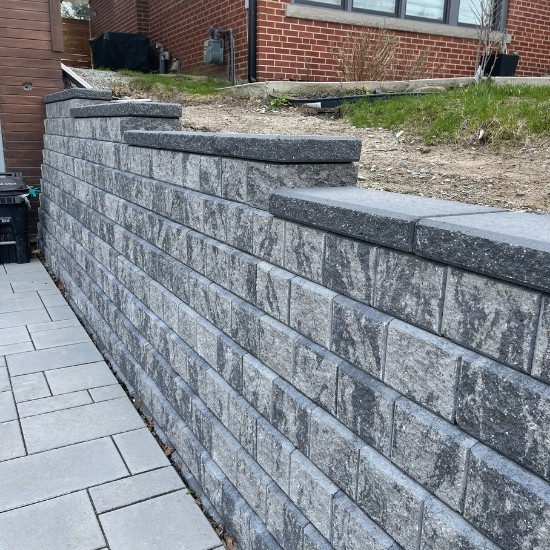 "Tim and Yuri have provided excellent craftsmanship and high quality service. Their team recently completed my two driveways with interlocking stone. This is our second time using their company and we would highly recommend them to anyone interested in similar projects. Thanks for a job well done!"
Derrick M.
"Tim and his team were extremely polite, professional and trustworthy. They worked long days to get the job done and consulted with me on my preferences all throughout the process. We are very happy with the quality of their work and they left the worksite clean. I would definitely hire Oaks again and will recommend them to friends and neighbours."
Ken B.
"Tim, Uri and their team were exceptional guys to work with. They were hired to replace curbs, front entry ways stairs and pathway to the backyard. They were punctual and the most hardworking people I have come across .I would not hesitate to hire them again. If you hire these guys you will not be sorry ."
Anne-Marie A.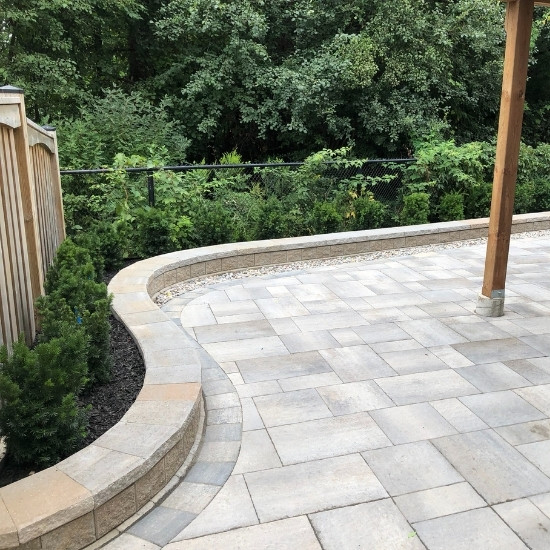 The Process of Building a Retaining Wall, and How to Do It Right?
Turning retaining wall ideas into results is an involved process. First, we prepare a solid base, which is the most important step in the retaining wall installation process. After, we build the retaining wall itself. Even if it's an armour stone retaining wall with big gaps in between stones, it's important to add crushed stone beside the wall. This will help to provide proper drainage.
Of course, there are much more important things to keep in mind during construction, including reinforcement grid directing pressure downwards, rather than against the blocks or timber. Thanks to many years of experience in landscaping, we know exactly how to build the best retaining walls and Oaks Home Services is the best company in Greater Toronto Area to entrust with this task!
Our team is committed to providing a wide range of landscape services in Toronto, Ontario and the GTA: we are ready to create a perfect retaining wall design taking the house exterior, the look of the yard, and even the type of soil into consideration.