Landscaping With Natural Stone ‒ For True Connoisseurs of Quality
Oaks Home Services offers affordable solutions for decorating your outdoor space with flagstone. The luxurious look, rich colours, and texture make this natural material a top option for homeowners across Ontario, where the choice of exterior decorating materials is dictated by summer humidity and low winter temperatures.
Here's why homeowners in Toronto and the GTA choose us:
✔ Top quality stone products
✔ Experienced and professional interlocking experts
✔ Our work will increases the value of homes
✔ We help you choose the best materials and design
✔ Affordable rates on installation
✔ 5-year limited labour warranty
Our Latest Natural Stone Projects
Take a look at our latest natural stone projects in Toronto and the GTA below. When you see something that you would like for your home, give us a call at (647) 619-4977. We look forward to working with you to design your dream home!
Natural Stone Experts You Can Count On
Our expert design advice and years of experience in natural stone landscape construction guarantee that the territory around your home will acquire the sleek air that evokes admiration from neighbours and guests. No need to compromise on durability though – flagstone toughness is a warranty of a lasting solution. Choose an instant makeover for your outdoor space and forget about cracked asphalt, wheels caught in potholes, and general untidiness around the place you live in with natural stone landscaping.
Landscaping With Natural Stone in Toronto ‒ Oaks Home Services
Natural stone makes it possible to create harmony between natural and artificial materials and can be considered the soul of any outdoor design. No wonder it's in great demand. Natural stone is used for paving paths, decorating pools, fountains, barbeque areas, fencing, alpine slides, and more.
There are various types of natural stone. The most popular types of natural stone are sandstone, limestone, granite, and quartz.
They are very different from each other as far as their structure, texture, and composition are concerned. These factors determine their wearability and resistance to frost, water, and other environmental conditions.
Limestone, for instance, will be a pleasure to the eye for at least a quarter of a century. Limestone uses are numerous as it's not only durable and attractive but also less expensive. The most long-lived materials are quartz and granite flagstones.
Flagstone prices vary depending, first of all, on the base material, i.e. the type of stone, thickness, shape, grade, and colour. The total cost of your project, for example a natural stone patio, will also depend on its location and size. No matter the project, we can offer something that will meet your budget needs.
"Tim and Yuri have provided excellent craftsmanship and high quality service. Their team recently completed my two driveways with interlocking stone. This is our second time using their company and we would highly recommend them to anyone interested in similar projects. Thanks for a job well done!"
Derrick M.
"Tim and his team were extremely polite, professional and trustworthy. They worked long days to get the job done and consulted with me on my preferences all throughout the process. We are very happy with the quality of their work and they left the worksite clean. I would definitely hire Oaks again and will recommend them to friends and neighbours."
Ken B.
"Tim, Uri and their team were exceptional guys to work with. They were hired to replace curbs, front entry ways stairs and pathway to the backyard. They were punctual and the most hardworking people I have come across .I would not hesitate to hire them again. If you hire these guys you will not be sorry."
Anne-Marie A.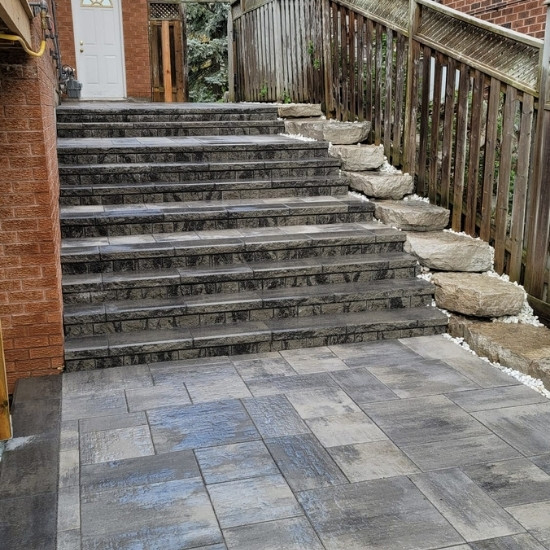 The Advantages of Natural Stone Vs. Concrete Pavers
When it comes to choosing materials for stone installation, people often wonder about the difference between natural stone and concrete pavers. The benefits of natural stone include:
durability;
ecological compatibility;
a great variety of colours and textures;
resistance to moisture absorption;
slip resistance;
fade resistance;
compatibility with all types of materials.
We can help you navigate the choices. Different factors should be taken into consideration and it's better to entrust this task to experienced professionals. If you reside in the Greater Toronto Area, granite, limestone, or any other natural stone landscape solutions are available for you at Oaks Home Services. We use natural stone pavers, natural stone tiles, and all the other necessary materials produced by the best manufacturers.
Whether it's a flagstone patio, a fountain in granite design, or natural stone steps in front of your home or in the garden, your natural stone design is sure to please with its noble texture and colour for many years.