Professional and Quick Interlock Repair in Toronto & GTA
There is a point when you notice that your driveway, patio or walkway does not really seem the way it looked before. You or your family members trip while trying to get to the front door, your entrance steps are falling down or even your car stuck in the potholes on the driveway. Oaks Home services, your number one choice company when it comes to landscape improvement needs, is always here to help. We are ready to fix any type of damage and make your pavers look great again.
If you need professional and affordable interlock repair services in Toronto, Vaughan, Markham, Richmond Hill and surrounding areas please feel free to contact our team.
✔ Experienced and professional interlock repair experts
✔ Our work will increases the value of homes
✔ We help you choose the best materials and design
✔ Affordable rates on installation
✔ 5-year limited labour warranty
✔ Other interlocking services for driveways, patios and walkways
Our Latest Interlock Repair Projects
Check out the images below to see out latest interlock repair projects in Toronto and the GTA. Our pros always deliver incredible results for our valued clients. If you see what you like, we invite you to callus today at (647) 619-4977.
Quick And Professional Interlock Repair in Toronto & GTA
Having an interlock driveway, walkway, or patio requires upkeep. Although durable, paver and flagstone surfaces are not immune from a diverse Canadian climate, often-harsh winters, and negative effects of constant use. Oaks Home Services provides interlock repair services in Greater Toronto Area. We have many years of experience and can help you avoid replacing an interlocked surface by repairing it and resetting damaged elements.
How to Repair Pavers? We Have the Answer!
Having been providing landscaping services for so many years, we know exactly how to repair interlock. The number one reason why driveways, patios and walkways need repairs and constant maintenance is poor base prepared by non-professional contractor.
When bases are sinking, pavers start to shift, and surfaces can become uneven. Usually, as a result, interlocking elements can pop out of place. In such cases we remove loose and broken pieces, prepare new base and replace pavers with the new ones.
The whole process consists of the following steps:
inspection during which we look for broken, uneven, tilted pavers and mark them with a piece of chalk;
wetting the surface using the hose and sending water along the edges of pavers to soften the sand under them;
removing the elements, spreading sand over the formed openings and temping it down;
placing the new pavers in the right spaces and tapping them in;
pouring sand over the area and moving it around with a broom to seal the paver flooring.
The process of repairing driveway or a patio is always unique, because it depends on the reason you need it, the condition of the base and interlocking pieces, etc.
The common signs that you need an interlocking brick driveway repair or resetting of old pavers are: cracks in pavers and sinking surface areas. No matter what the problem is, Oaks Home Services is the best landscape construction company to entrust your interlock repair in Toronto!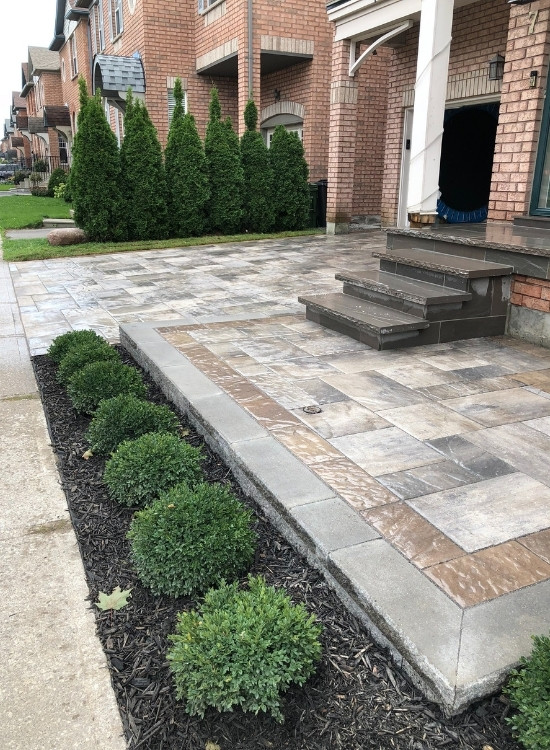 "Tim and Yuri have provided excellent craftsmanship and high quality service. Their team recently completed my two driveways with interlocking stone. This is our second time using their company and we would highly recommend them to anyone interested in similar projects. Thanks for a job well done!"
Derrick M.
"Tim and his team were extremely polite, professional and trustworthy. They worked long days to get the job done and consulted with me on my preferences all throughout the process. We are very happy with the quality of their work and they left the worksite clean. I would definitely hire Oaks again and will recommend them to friends and neighbours."
Ken B.
"I was quite pleased with Oaks Home Services and it's workers. They were very punctual and professional. I was impressed with the guys. They did exactly what I wanted on my backyard.. Quality and excellence are hard to find nowadays, and I'm extremely pleased with the result. Would highly recommend."
Denis T.