Front Steps And Entryway Made To Last And Impress
Stepping inside your home begins with… well, steps! We promise, we will step up our pun game further down the page.
In all seriousness though, while every element that builds your abode is an important puzzle piece, the steps are a heavy-duty zone required to meet the standards of safety, durability, and aesthetics.
✔ Top quality stone products
✔ Experienced and professional interlocking experts
✔ Our work will increases the value of homes
✔ We help you choose the best materials and design
✔ Affordable rates on installation
✔ 5-year limited labour warranty
✔ Other interlocking services for patios, walkways and more
Our Latest Front Steps And Entryway Projects
Check out the images below from our latest front steps and entryway projects. We have completed so many projects throughout Toronto and the GTA and always deliver incredible results.
Our Professional Front Steps and Entryway Service
We build worry-free front steps that will give you years of low-maintenance service. Oaks Home Services is a reliable landscape contractor serving Toronto, Richmond Hill, Markham, King City, and other GTA cities.
Building Safe Front Steps And Entryway Design in Toronto
The first step to a welcoming house is safe front steps. They add an elegant touch to the house exterior, making it easy and comfortable to reach the front door.
Envisioning your front steps and entryway, do not forget to think through the details. To make your home gracious, it's necessary to build durable front steps, behind which is a functional entryway. Oaks Home Services is here to create the best entryway designs and front steps decor, choosing the right materials and fulfilling your dreams!
We specialize in building safe and high-quality natural stone steps, but we work with many other materials as well, such as:
precast concrete;
concrete blocks;
hardwood
Our crew will provide you with qualified help every step of the way, from generating unique entryway ideas and building precast concrete steps, to maintaining and repairing structures. We will offer you lots of designs to choose from. Additionally, if you need to install front step railing, we can help with that, too.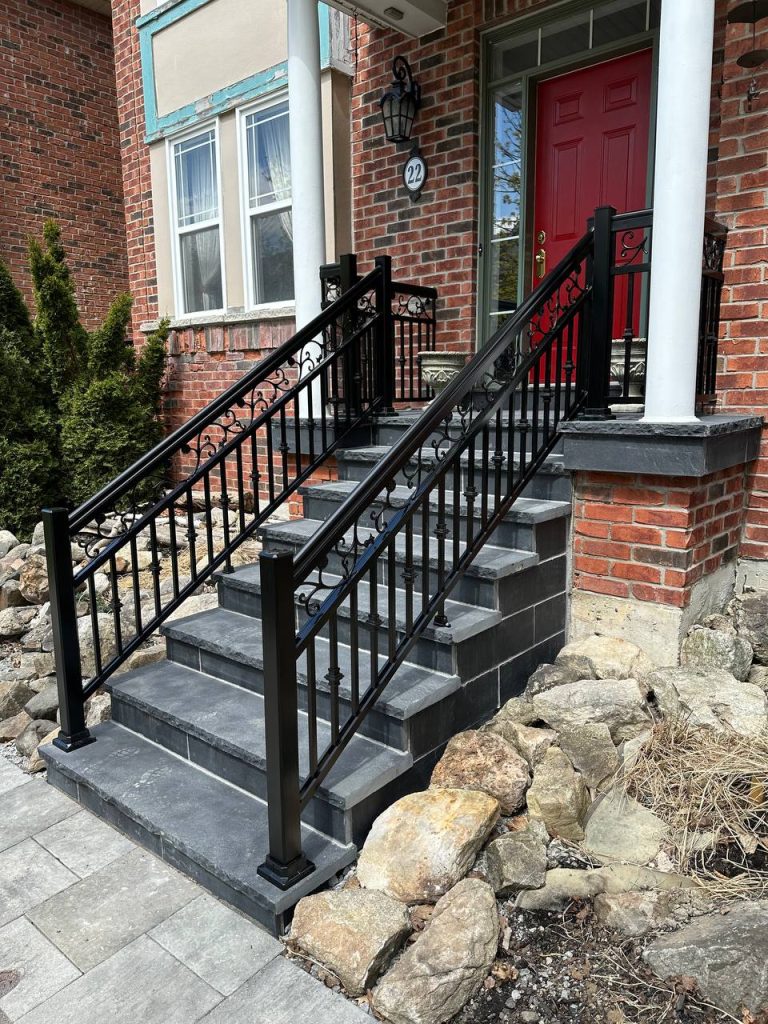 "Tim and Yuri have provided excellent craftsmanship and high quality service. Their team recently completed my two driveways with interlocking stone. This is our second time using their company and we would highly recommend them to anyone interested in similar projects. Thanks for a job well done!"
Derrick M.
"Tim and his team were extremely polite, professional and trustworthy. They worked long days to get the job done and consulted with me on my preferences all throughout the process. We are very happy with the quality of their work and they left the worksite clean. I would definitely hire Oaks again and will recommend them to friends and neighbours."
Ken B.
"Tim, Uri and their team were exceptional guys to work with. They were hired to replace curbs, front entry ways stairs and pathway to the backyard. They were punctual and the most hardworking people I have come across .I would not hesitate to hire them again. . If you hire these guys you will not be sorry."
Anne-Marie A.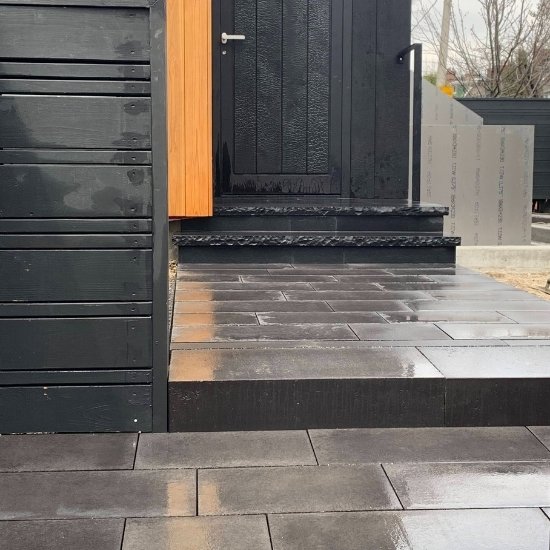 Why Choose Us
Oaks Home Services has made a name for itself designing, constructing, remodelling, and fixing entryway steps for an eye-pleasing, durable, and safe result. Here's why our highly acclaimed services are so popular:
Assistance of licensed home designers
Recreating your entryway vision down to the smallest detail
Use of the best materials (natural stone, concrete, wood etc.)
The most competitive price in the province
Providing services in almost every city in Ontario
Working with a guarantee for years of use
All you need to do is convey your ideas, preferences, and requirements to our specialist–book online and we'll be ready to consult with you on the spot. We'll take it from there, putting the project to life with professional precision and diligence of the highest grade.
What you get as a result is a time-, tear- and wear-resistant doorstep and functional entryway adding the final touch of elegance to your home.