High Quality Concrete Services in Toronto, Ontario
Concrete is arguably the most widely used material in landscaping of residential properties, and not without some very valid reasons: its compressive strength, tensile strength and unit weight make it an optimal matter to work with when constructing sustainable exterior elements.
Our company uses a variety of concrete types and grades in order to provide highly customizable constructions with characteristics adjustable to the individual needs of homeowners.
Here's why homeowners choose us for their concrete needs:
✔ Top quality concrete products
✔ Experienced and professional concrete experts
✔ Our work will increases the value of homes
✔ We help you choose the best materials and design
✔ Affordable rates on installation
✔ 5-year limited labour warranty
Our Latest Concrete Installation Projects
The concrete experts from Oaks Home Services have been working with homeowners for many years now and have completed a number of concrete installation projects. Browse our recent work and give us a call at (647) 619-4977 to discuss your concrete project,.
Your Trusted And Reliable Concrete Experts
Oaks Home Services work across the province of Ontario, providing professional concrete contractor aid at a highly competitive price. Start with booking our specialist to assess the works required, and we will offer you the most attractive price and the shortest terms for repairing or constructing your concrete driveway, sidewalk, steps or patio. Fixing up your outdoor space has never been more affordable!
Top Rated Concrete Contractors in Toronto, GTA
Oaks Home Services is here to fulfill your ideas, whether it is a concrete driveway, patio or steps. As deeply experienced concrete contractors, we use various types of material for different purposes.
There are many options available to our clients, because it is literally nothing we cannot do using concrete in Toronto, GTA. We offer both stamped and decorative materials for landscaping projects as well as for building stairways, patios, driveways, walkways, etc. Oaks Home Services is a top rated company that works with colored concrete – construction mixture made by adding synthetic and natural pigments in it.
Using concrete in your garden projects can have lots of benefits, which are as follows:
you can create an outdoor dining area that is easy to walk on, and there is not even a chance flooring gets slippery and unsafe for children;
you might want to decorate a concrete patio using flagstone, tiles, or whatever you want to make it feels as comfortable as being inside the house;
it is the most affordable and durable material to build a fire pit, outdoor kitchen or water feature in the backyard;
you can even create a multifunctional outdoor living space compatible with cabana (we can build it, too).
We build outdoor structures using top quality ready-mixed concrete. Oaks Home Services works with clients from all around GTA, including Toronto, Vaughan, Richmond Hill, Etobicoke, King City, Caledon, Markham, etc. We offer affordable prices for concrete design and provide guarantee to our services, including installation and concrete repair.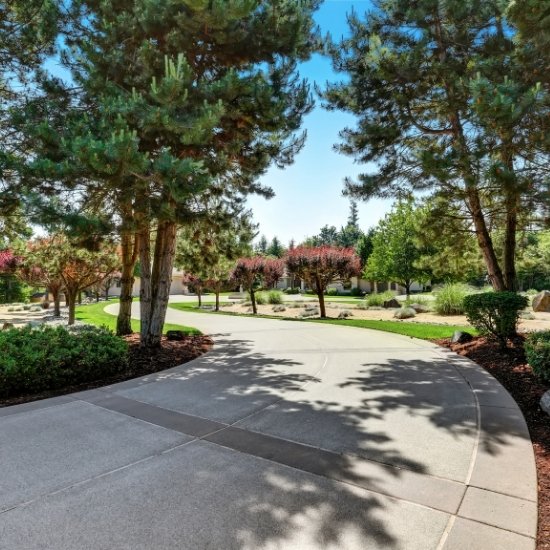 "Tim and Yuri have provided excellent craftsmanship and high quality service. Their team recently completed my two driveways with interlocking stone. This is our second time using their company and we would highly recommend them to anyone interested in similar projects. Thanks for a job well done!"
Derrick M.
"Tim and his team were extremely polite, professional and trustworthy. They worked long days to get the job done and consulted with me on my preferences all throughout the process. We are very happy with the quality of their work and they left the worksite clean. I would definitely hire Oaks again and will recommend them to friends and neighbours."
Ken B.
"Tim, Uri and their team were exceptional guys to work with. They were hired to replace curbs, front entry ways stairs and pathway to the backyard. They were punctual and the most hardworking people I have come across. I would not hesitate to hire them again. If you hire these guys you will not be sorry."
Anne-Marie A.