Design and Installation of Swimming Pools in Toronto
A house with a private swimming pool is what makes a difference between a home and an ultimately luxurious dwelling. Quite counter-intuitively, building a swimming pool in your backyard is not as prohibiting in price as most would think. Oaks Home Services, the leading contractor for inexpensive swimming pools in Ontario, lends high-quality expertise at low cost.
We are hard-wired to build swimming pools from scratch, or introduce meaningful touch-ups for your existing pool environment. Let us attend to your every need related to poolscape projecting, building, constructing and renovating – and you will see that Oaks Home Services is a landscape contractor that is second to none in terms of elegant, practical and inexpensive solutions for your backyard living. Breathe life into your poolside refuge before the party season kicks in!
✔ Top quality products
✔ Experienced and professional swimming pool experts
✔ Our work will increases the value of homes
✔ We help you choose the best materials and design
✔ Affordable rates on installation
✔ 5-year limited labour warranty
Our Latest Outdoor Swimming Pool Projects
The team here at Oaks Home Services has been working with homeowners fro many years now. In that time, we have installed many backyard swimming pools. If you want to enhance your home with a new swimming pool, call us at (647) 619-4977.
Beautiful and High Quality Fiberglass Pool for Your Backyard in Richmond Hill and Caledon
Oaks Home Services offer professional design and construction of fiberglass outdoor swimming pools of any size and shape. Their key advantages are easy installation and low maintenance. Additionally, our professional team can cover surrounding pool areas with interlock, stamped concrete or flagstone. We do care about your safety that is why we apply only tested innovative technologies both for adults and kids swimming pools.
How do we usually arrange surrounding pool territory?
We will make swimming in your outdoor pool even more enjoyable! Applying various products as a paving material, we guarantee the high quality of the surface. It is characterized with decorative value, durability, and resistance to damages. Regardless of high humidity conditions and frequent contact with water, the surfaces will never be rusted. They will withstand almost any weather environment.
There are two distinguishable areas around a swimming pool, which we arrange applying certain materials:
Copings – among the pool edging materials there are limestone, granite, quartzite, and others. We make a decorative accent enhancing the appearance of the place and provide safe walking around pool.
Surrounding area – the most common materials for this zone are: stamped concrete, pavers or natural stone. In order to make the paths and leisure area bright and vivid, various colors and sizes of materials can be applied.
We offer out-of-the-box ideas suiting your swimming pool in Toronto, Vaughan, Richmond Hill, Markham, and other cities of Ontario, allowing to create a smooth look of this area on your backyard.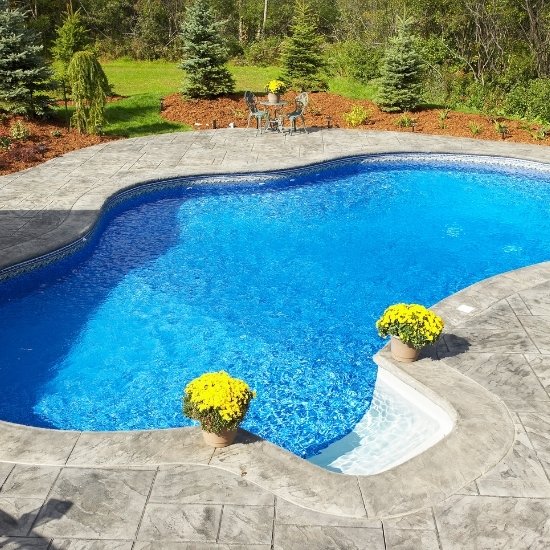 "Tim and Yuri have provided excellent craftsmanship and high quality service. Their team recently completed my two driveways with interlocking stone. This is our second time using their company and we would highly recommend them to anyone interested in similar projects. Thanks for a job well done!"
Derrick M.
"Tim and his team were extremely polite, professional and trustworthy. They worked long days to get the job done and consulted with me on my preferences all throughout the process. We are very happy with the quality of their work and they left the worksite clean. I would definitely hire Oaks again and will recommend them to friends and neighbours."
Ken B.
"Tim, Uri and their team were exceptional guys to work with. They were hired to replace curbs, front entry ways stairs and pathway to the backyard. They were punctual and the most hardworking people I have come across. I would not hesitate to hire them again. If you hire these guys you will not be sorry."
Anne-Marie A.