Landscape Design in Toronto: Bring Your Dreams to Life
Yard landscaping is a make it or break it factor when it comes down to framing the place you live in. Obviously, the exterior of your dwelling is something that presents you as a home owner: while few people enter the house and get to see the interior, everybody can see the job you've done decorating the front yard. Oaks Home Service makes it easy for your home to steal the show. We take on front yard as well as back yard landscaping, contributing our technical expertise to your unique vision.
Short for ideas? Our designer will work out an optimal solution that meets your specific needs and personal taste. The bottom line is, we render your home this state of art look, honing its style and taking the comfort of your living a few notches up – affordably so!
✔ Experienced and professional landscaping experts
✔ Our work will increases the value of homes
✔ We help you choose the best materials and design
✔ Affordable rates on installation
✔ 5-year limited labour warranty
✔ Professional landscape services for stone work, wood work, and more
Our Latest Landscape Design Projects in Toronto and the GTA
The team at Oaks Home Services is made up of professional landscape design experts who have been in the industry for many years. We invite you to peruse our latest projects to see the incredible results of our work.
Unique and Thoughtful Landscape Design in Toronto by Oaks Home Services
If there is a need or desire to change a familiar old-shoe sight of your exteriors and create the most fabulous new landscape in Ontario, please, feel free to reach Oaks Home Services. We've got solutions just for you! The outdoor space will be transferred into a sustainable and environmentally responsible landscape. Our professional designers are ready to take up any on-site challenge. The loads of unique ideas and our attention to details always result in a clear implementation plan for a new environment, which will be executed within the accuracy. At Oaks Home Services we have earned a reputation of a company creating aesthetically pleasing spaces. In our company you will find the top rated designers and landscape architects in Toronto!
Key Purposes
Landscape design is the art arranging area in an effort to improve its functional and aesthetic qualities. It means selecting plants considering both their forms and textures, applying color theory, constructing and incorporating such elements like patios, arbors, pools, ponds, fountains, and other landscape architecture. That is not only about beauty and style. The designer should deal with proportions, balance, compatibility of components, usability of the territory, safety engineering, preventing and maintenance issues. He undertakes a task to increase the value of the client's property. Only with professional support it is possible to create convenient luxurious outdoors with optimization of the existing parameters of the area.
There are various styles of landscape design applied regardless of assignment of a land parcel. Though, while being involved in back yard landscaping, a designer remembers that this place is for the rest time when family members, children, and guests come together, while front yard landscaping is focused on making the first impression. It is clear that the approach differs in these two cases. Still we mention the most popular types of design, which can be adapted to any purposes:
English garden. It is very green with shrubs and trees.
Oriental. It is rich in rocks, waterfalls, ponds. Zen garden makes sense here.
Formal. It is symmetrical, has a lot of geometric shapes with straight lines. The plants are well-pruned.
Informal. The curved edges are typical to this design. The plants are set at random.
Woodland. The natural growth of trees and plants is a key moment here.
"Tim and Yuri have provided excellent craftsmanship and high quality service. Their team recently completed my two driveways with interlocking stone. This is our second time using their company and we would highly recommend them to anyone interested in similar projects. Thanks for a job well done!"
Derrick M.
"Tim and his team were extremely polite, professional and trustworthy. They worked long days to get the job done and consulted with me on my preferences all throughout the process. We are very happy with the quality of their work and they left the worksite clean. I would definitely hire Oaks again and will recommend them to friends and neighbours."
Ken B.
"Tim, Uri and their team were exceptional guys to work with. They were hired to replace curbs, front entry ways stairs and pathway to the backyard. They were punctual and the most hardworking people I have come across .I would not hesitate to hire them again. If you hire these guys you will not be sorry ."
Anne-Marie A.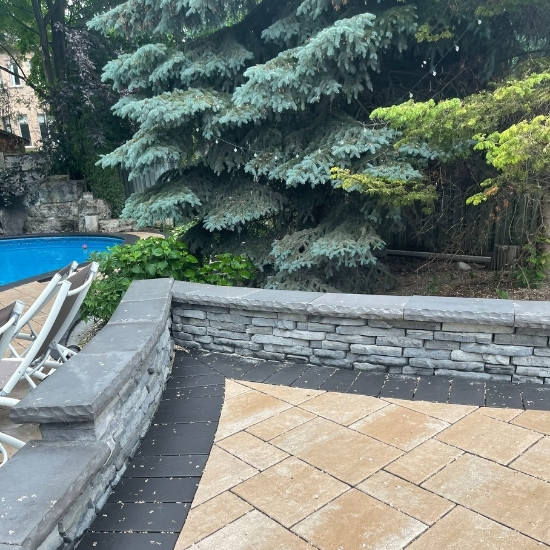 How do we work?
As a full service landscape contractor, we offer all-in-one service package including design, installation and maintenance. Our key principles are as follows:
We analyze the site carefully because every plot of land outstands with peculiarities and still it remains a part of ecosystem on the whole.
We develop the conception in accordance with the findings and customer's requirements. Discuss it and make design drawings. Here it is important to ensure that all the components of the whole layout will work together properly.
We do our best to understand the needs and wishes of our customers, to integrate their ideas into the project considering such collaboration as part of a professional comprehensive approach. It is important for us being one of the leading local landscaping companies to offer just what our clients expect to see and perhaps a little bit more.
We start implementation of the project and complete it timely within budget delivering the customers from troubles during a working process. Everything is kept under control by our highly qualified staff with a rich experience.
Contact us to take an advantage of our professional experience, creativity and awareness of the hottest new trends in landscape design. We are available for the customers of Toronto, Vaughan, Richmond Hill, Markham, and other cities of Ontario. You will appreciate our commitment to excellent service. Regardless of scope of work and size of area, we will manage to achieve the best result and satisfy your needs creating the best landscape design ever.