Interlocking Services in Toronto & GTA
Interlocking driveway is an instantly beautifying solution designed for your house to gain that chic air that will make it stand out compared to your neighbours' dull asphalt driveways.
Customized interlocking driveway will not only make the rest of your front yard look more presentable than ever, but will actually become a heavy-duty kind of surface lasting for years. Here's why homeowners choose Oaks:
✔ Top quality stone products
✔ Experienced and professional interlocking experts
✔ Our work will increases the value of homes
✔ We help you choose the best materials and design
✔ Affordable rates on installation
✔ 5-year limited labour warranty
✔ Other interlocking services for patios, walkways and more
Our Latest Driveway Interlocking Projects
They say a picture is worth a thousand words; so we invite you to check out the gallery below which shows pictures from some of our latest interlocking driveway project in Toronto and the GTA. When you see something you like, we invite you to get in touch with us to talk about your interlocking needs.
Interlocking Contractor in Toronto and GTA: Top-Notch Paving Services
An interlocking driveway can take your house design to a whole new level. Driveway paving stone turns it into something more than just a portal to the garage; it makes your yard looks tidy and elegant while enhancing the value of the property. Here at Oaks Home Services, we help complement your residence with artistry landscaping and pavement services. We know that interlock driveway designs start with you, so we will do our best to understand and fulfill your vision by using materials of the highest quality. We work fast and give more value for money than any homeowner in Toronto, Oakville, Vaughan, Etobicoke, Mississauga, Markham, Caledon, and other cities in the GTA.
Best Interlocking Driveway Designs in Toronto, ON
If you're sick and tired of your cracked, uneven, broken, and dull asphalt, it's time to make the right choice and pick the best driveway interlocking in Toronto. Being an experienced and committed contractor, we guarantee our services and do our best to make any house's appearance unique.
Not only will your driveway look stunning, it will be more functional and durable. That's because we use thicker pavers (approx. 3 inches) providing more stable driveways compared to paving stones for patios and walkways. We know that driveways serve a lot of purposes, so we select high-quality materials that are suitable for your needs. Our professionals will also carry out a visual inspection of your yard before starting the job.
When you browse our testimonials on Google, HomeStars, Facebook, and kore review sites, you will clearly see that our team always delivers amazing results for our clients.
This is how you know you can feel confident that we are the best available interlocking contractor for your project. We invite you to get in touch with us today so we can discuss your project and how our team can help you achieve the home of your dreams.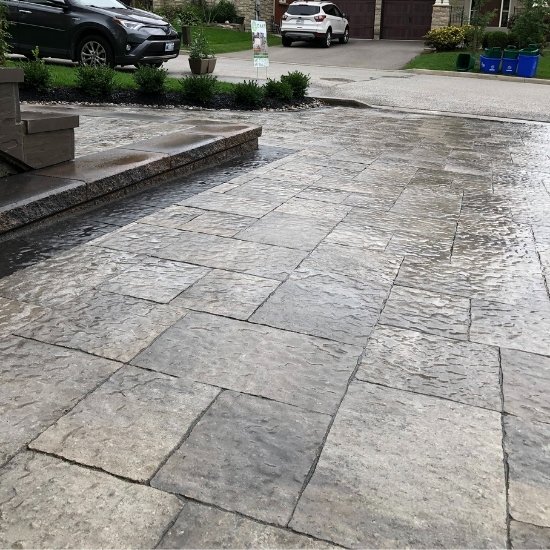 "Tim and Yuri have provided excellent craftsmanship and high quality service. Their team recently completed my two driveways with interlocking stone. This is our second time using their company and we would highly recommend them to anyone interested in similar projects. Thanks for a job well done!"
Derrick M.
"Tim and his team were extremely polite, professional and trustworthy. They worked long days to get the job done and consulted with me on my preferences all throughout the process. We are very happy with the quality of their work and they left the worksite clean. I would definitely hire Oaks again and will recommend them to friends and neighbours."
Ken B.
"Tim, Uri and their team were exceptional guys to work with. They were hired to replace curbs, front entry ways stairs and pathway to the backyard. They were punctual and the most hardworking people I have come across .I would not hesitate to hire them again. If you hire these guys you will not be sorry ."
Anne-Marie A.
Driveway Extension Installation in Toronto, Vaughan and Richmond Hill
Making your driveway wider is a perfect way of handling your parking needs. If you need to expand and extend a residential road from the street to a house or a garage, we're here to help. At Oaks Home Services, we know exactly how to lay the ultimate long-lasting driveway extension.
We will help you choose materials, be it paving stones, flagstone, or concrete pavers. There are so many colours and compositions, so the only limit is your imagination. Entrust us with laying your interlock driveways extension for better maneuverability and the ability to accommodate more vehicles!
Limited driveway space? Just another opportunity for us to demonstrate our expertise: we will design and build a driveway extension matching your house and an existing driveway. Call us today for the best price quote!
Our installation experts can take on any project for any client. No matter what type of property your have for your home, we can deliver incredible results that will completely enhance the curb appeal of your home.