How Do I Ensure My Interlocking and Flagstone Stay Looking Beautiful?
Oaks Home Services has hundreds of satisfied clients all over the GTA. If you are lucky enough to have flagstone or interlocking stone from Oaks Home Services on your property, congratulations to you.
When it comes to preserving your interlocking flagstone, there are a few key things to keep in mind. You should seal your flagstone on a yearly basis to protect it from moisture and stains. If you live in an area like Canada that experiences freezing temperatures, be sure to take measures to prevent your flagstone from cracking or breaking by using de-icing products and/or covering it with a tarp or other protective material when the weather is bad.
You have a beautiful and unique space that should last for many years with the proper care. Here are a few tips and tricks to keep your flagstone or interlocking stone looking its best:
Sweep regularly to remove dirt, debris, and leaves to prevent buildup and damage.

Use a hose with a gentle nozzle sprayer attachment to clean the surface. avoid using a pressure or power washer, as this can skin a layer right off of the stone and significantly damage it.
Canada tends to have some snow, in that case, use a plastic shovel to remove snow from the surface. As metal shovels have the ability to scratch the stone.

In cases where moss or algae is present, mix up a solution of 1 part bleach to 10 parts water and scrub the surface with a brush. rinse well with clean water afterwards.
Stains can be left from leaves and other natural debris, when this occurs you can use a mild detergent or soap and a stiff brush to clean them. always rinse the surface well afterwards.

If you are experiencing tougher stains, such as oil or grease, you can use a diluted solution of trisodium phosphate (tsp) and water. scrub the surface with a brush and rinse well afterwards.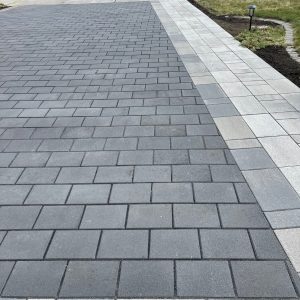 For rust stains, mix up a paste of oxalic acid crystals and water and apply it to the stain. let it sit for 30 minutes before scrubbing with a brush and rinsing well.

Cracks and chips are commonplace issues for all types of interlocking stone over time, epoxy resin is the perfect solution to fill in the holes and cracks.
Following these simple steps will help protect, preserve and maintain all types of interlocking surfaces and flagstone hardscapes. Oaks Home Services is committed to helping all homeowners get the absolute most out of every inch of their place.