What Type of Interlocking Stone Do I Need For My Home?
Interlocking hardscapes can be constructed with many different types of stone. Granite is a popular choice because it is highly durable and strong. Other popular choices are limestone, sandstone, and slate.
In interlocking design, granite is a very popular choice because it is so strong and durable. In addition to being a highly attractive material, granite can also add value to your home. Nevertheless, granite can be quite expensive, and it can crack in freezing temperatures, so it is not always the best choice for homes in cold climates
For interlocking projects, limestone is another popular choice. It has a beautiful natural colour and is less expensive than granite. In addition to being extremely strong and durable, limestone is also extremely easy to clean and maintain. It can withstand a lot of wear and tear, making it ideal for high-traffic areas. Usually, you simply need to sweep it or hose it down to keep it clean. The affordability of limestone makes it an attractive choice for budget-conscious shoppers.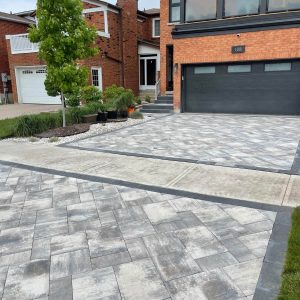 As a result of its durability, weather resistance, and affordability, sandstone has become a popular choice for interlocking. Sandstone also comes in a wide variety of colours and styles, making it possible to find the perfect match for your home's unique aesthetic. The porous nature of sandstone means that it is susceptible to external elements and stains easily.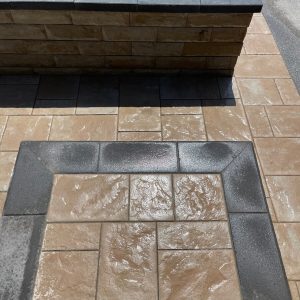 Interlocking stone with slate is a beautiful and unique option. It is extremely durable and strong, but it can be quite costly. Slate is available in a variety of colours, making it an excellent choice for many different design schemes. If you live in an area where it rains or snows a lot, slate may not be the best choice since it can be very slippery when wet.
Interlocking designs around your property will enhance the curb appeal and value of your property, as well as the form, functionality, and design of your home. In addition to our years of experience sourcing and installing interlocking stone, Oaks Home Services has experts who have first-hand knowledge of all different types and kinds of interlocking stone, as well as what type of stone will work best for your property.
So now you know the different types of Interlocking stone that are most commonly used in residential interlocking projects. Our professional interlocking experts have experience installing every type of stone listed above and know which stone will work best with your backyard space.
We can help you find the best option for you and your interlocking. Looking for some inspiration? Check out some of our previous backyard design galleries. Ready to get started with your projected vision? Contact Oaks Home Services.